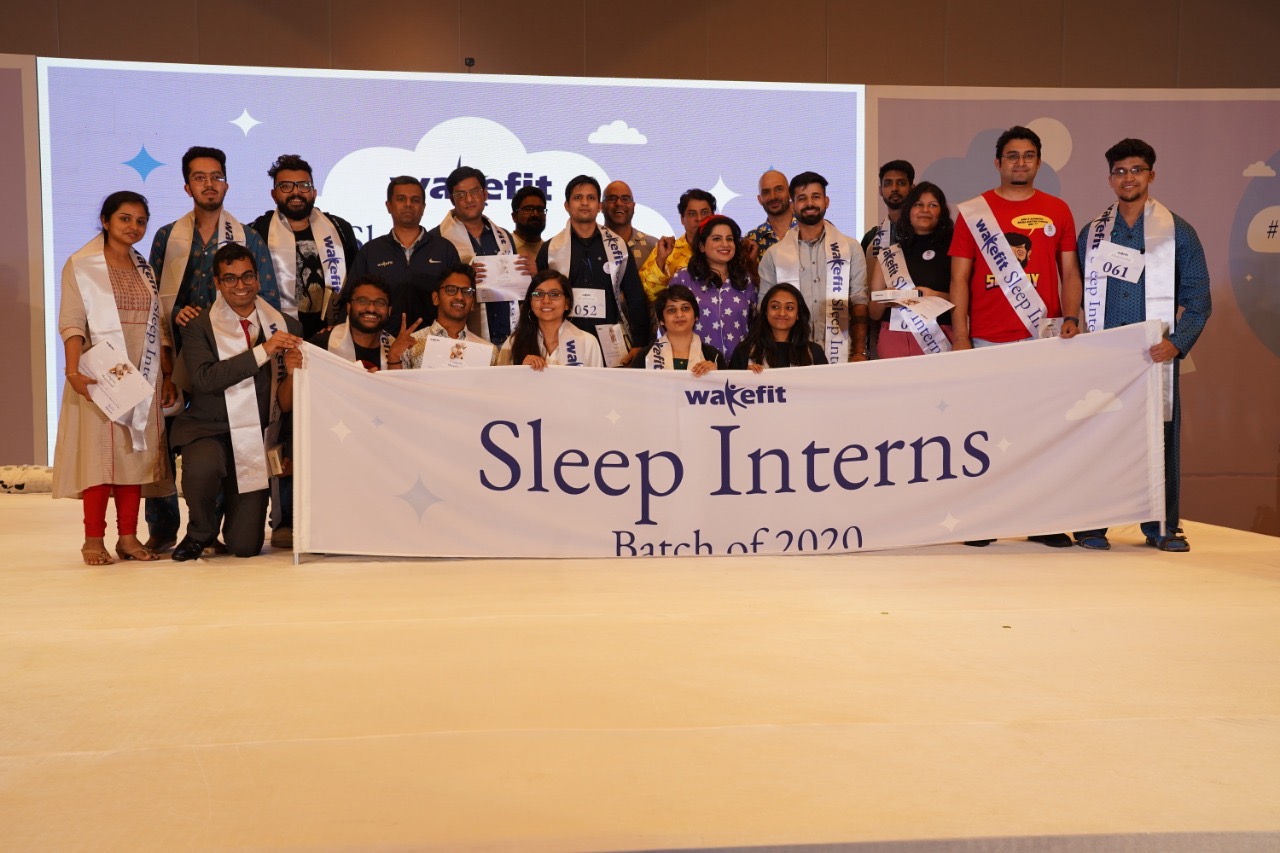 Wakefit's sleep interns, batch of 2020
In July 2019, a leading Indian newspaper carried a quote from us. "We set up Wakefit in March 2016 with a vision to democratise sleep". To truly give access to high quality, latest material sciences research to the masses. To make sleep available to every Indian, even if he/she is earning a very basic income every month. Make products that are currently sold in the INR 70,000 to INR 2 Lakh range, affordable by bringing their prices down to as little as INR 5,000, while maintaining the highest standards of durability, quality (10 year warranty), comfort (newer technologies like memory foam) and convenience (delivered home, 100-night trial) possible.
A quick check in the dictionary yields the following meaning:
democratise – make (something) accessible to everyone
A few hours later, the tweets started.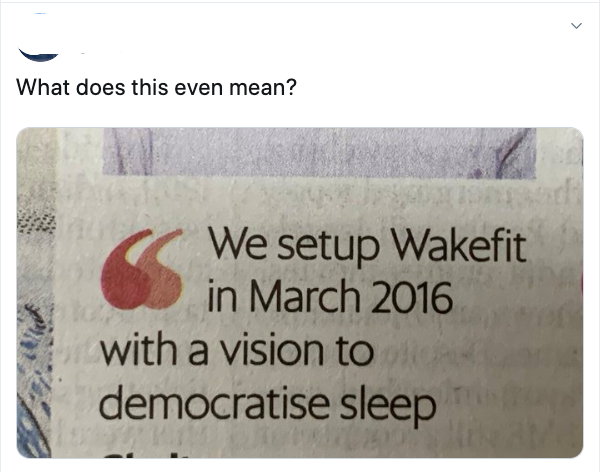 The responses followed, and surprisingly from other founders, who are all working hard at building their own startups and know the daily grind to make it work. From the same people, who I thought would be most understanding of our vision and hard work.

Never mind that we had already been funded.

Never mind that they loved our products.

Entrepreneurship teaches you many things, including how to be thick-skinned. You learn to listen and see everything that goes on, internalize them, but then consciously choose to ignore many of those occurrences. I took away two lessons from this:
Most derogatory things said in 140-280 characters really don't take much effort to create; it is just verbal diarrhoea, captured for posterity
It is wrong to tune out these kinds of conversations. You should listen, because there could be a grain of learning about something that can benefit your startup

Source: Pearls before swine, by Joseph Pastis
So, we ignored these and more such conversations, and yet again put our heads down to execute harder. How do we REALLY trigger relevant conversations around sleep in daily life? How do we bring the spotlight back on this oft-neglected aspect of our lives?
The idea germinated as part of a fun brainstorming session with our creative marketing partners, Spring Marketing Capital's Sandeep Balan, one monsoon afternoon in 2019. We were trying to figure out how to change the narrative and actually celebrate people who value their sleep instead of sacrificing it for supposedly getting ahead in life.
What if we paid people to sleep? Would they pay attention to it then?
From this seed of an idea that almost seemed like a prank, to fully fleshing out this movement, it was an amazing experience. First, we had to come up with an exciting job description text and a great set of videos to go with it. The videos had to be fun, quirky and carry a never-before-seen feel to them. So we created a cool looking office, but with bed stations instead of work stations. We dreamed up an office set up that every one of us would wish to be part of. Pyjamas instead of ties and boring formals, flexible working (sleeping) hours, soothing colors, mood lighting, and of course, everything blessed by our omnipresent mascot, Baabaa. The whole set of videos can be found here.
The main video for sleep internship applications
Then came the microsite where we wanted our applicants to land. The microsite (now showing results) had a set of sleep facts, tips on sleep, and a simple application form. It had a simple, seamless flow while also not forgetting our philosophy of "the more you know, the better you sleep", which is focused on educating all Indians about the benefits of sleep.
Lastly and most importantly, came the distribution of the key message of the initiative. Trying to push the concept down people's throats by putting advertising money behind it on the usual "performance marketing" platforms, would again impact the credibility of the message. It would seem like an advertisement, or worse, like a gimmick. It had to grow organically and on the strength of the content. So we spent time and effort disseminating to the right journalists with whom we had built relationships over a period of 4 years.
Come launch day, our whole team was waiting with bated breath after having put in months of effort in lining up all the building blocks.. Even on that day, the team was in different cities, in shoots and other marketing related work, but constantly in touch via WhatsApp and emails. It was an important effort for us, and we were true believers that it would do good to the second most sleep deprived country in the world. We sent it out, contacted journalists, shared our thoughts sincerely, and then, nothing. More than a day passed before we started seeing a small trickle of articles here and there. Given this muted response, we thought that with any luck, we might get to a few thousand applications over a few weeks.
The deluge of coverage snowballed over the coming 7 days, getting bigger and bigger every day. Internet viral news platforms created articles and posts around the campaign. Over 10 radio stations engaged with us to know why we had conceptualized this campaign. Customers, friends, suppliers and family contacted us to know if this was indeed true. Some examples of coverage in over a dozen countries that we know of, are given below.
UK – Unilad
Australia – Yahoo
Korean – KorIndia
LinkedIn news feed – LinkedIn
India news – India Today, Mint, Republic TV, Hindustan Times
Hindi news – Aaj Tak, Zee News,
Regional language news – Punjabi, Tamil
We knew we had gone truly viral when two things happened. One, the internet started creating memes about the Sleep Internship campaign. Two, when family WhatsApp groups of every one we knew, started getting this forwarded to them, to encourage applications.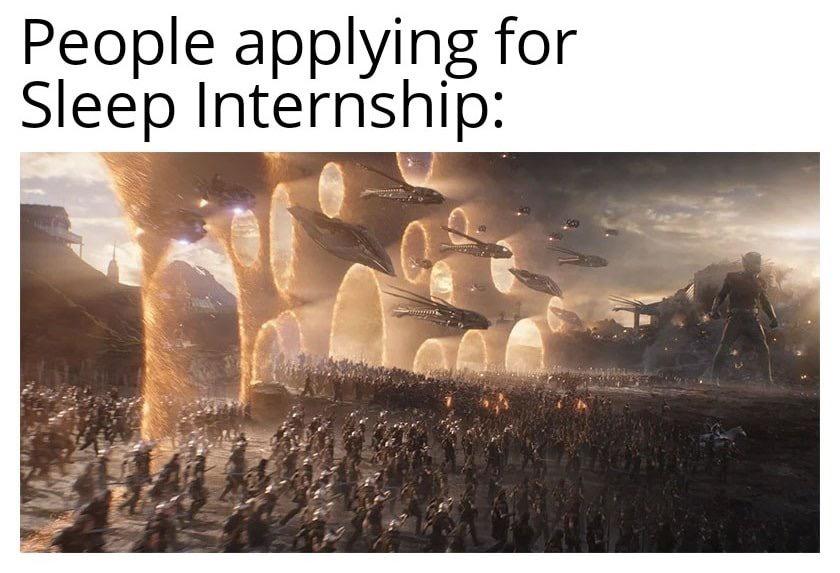 A meme that the internet created when the message spread
The next two months were a blur. Surpassing all expectations, we received over 1.7 lakh applications from 30 countries within 3-4 weeks. This, despite explicitly mentioning that this was only meant for citizens of India. The whole team pulled together in responding to over 7500 comments and queries, short listing from the lakhs of applications, answering queries on calls and emails, putting up the microsite with relevant content frequently. It was a mammoth effort of our team and our trusted partners where we have built strong relationships.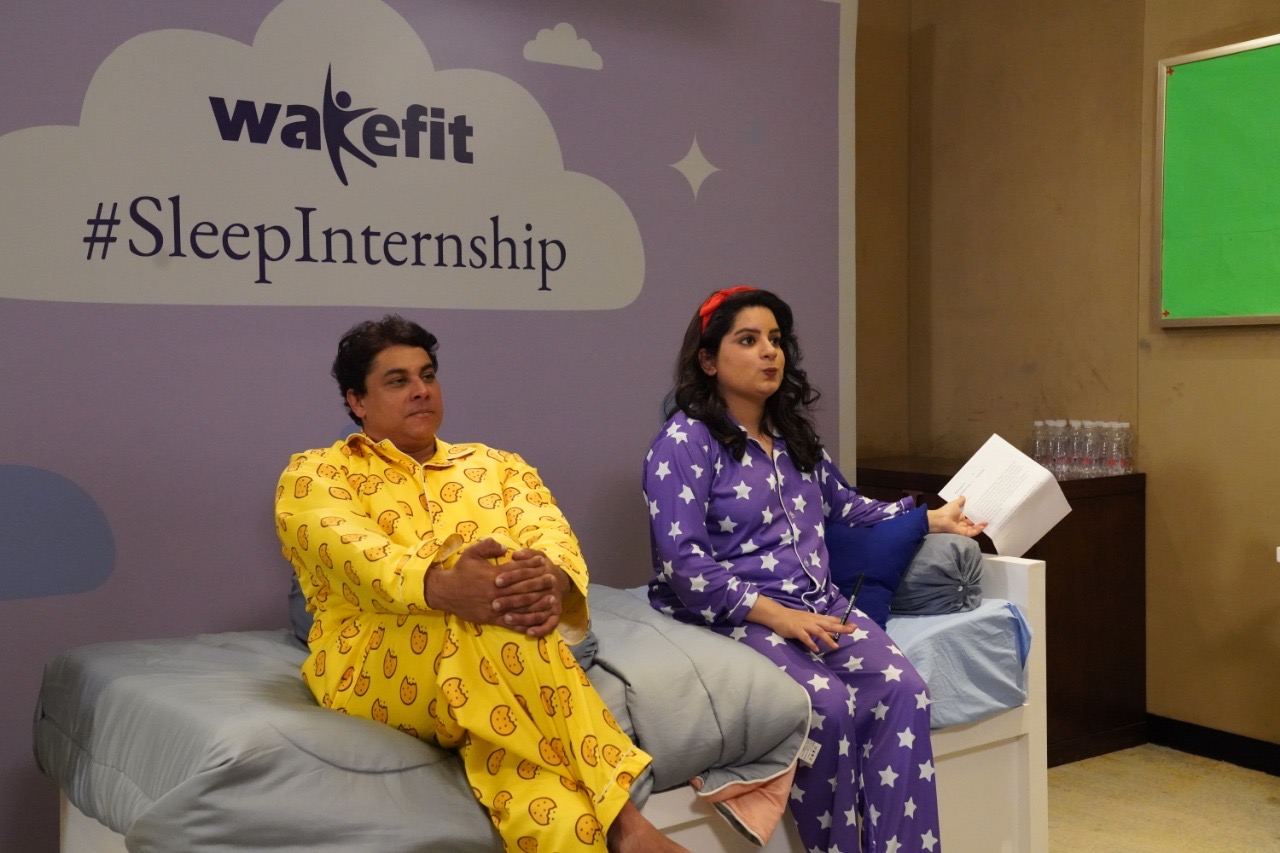 The last round was an in-person interview with celebrity judges, where the 100 finalists were flown in to Bangalore. Judges included Cyrus Broacha, Mallika Dua, Naveen Kaushik and Shivankit Singh Parihar who have all been long time collaborators of brand Wakefit. Our idea was to celebrate these pioneering people from across the country, who took the leap of faith and gave their all. They were the chosen 100 out of the 1.7 lakh applicants and to us, they were all heroes. It was a fun day with stand up comedy, games, songs, naps of course, and impromptu jamming sessions. Tallying the scores and finally choosing the 21 Indian and 2 international sleep interns was then a rigorous process.
Now, over to the 100 day internship, where we guide our selected interns in building great sleep habits by providing our expertise and products. The circle will be complete, when we demonstrate to India that our lives can definitely get better, when we sleep well (no pun intended).